Do you wish to create a website like Jiji Classifieds or you want to set up a classifieds website in Nigeria? Well this is a full guide on how to own your own full classifieds website that will be fully automated and rake in more revenue from your sellers' ad promotions, Adsense and eCommerce sales
if you want to Download the Jiji Clone Website Software Click here
What is a Classified Website?
For starters its a place where buyers connect with sellers with intentions of buying and selling, however unlike traditional e-commerce business classifieds are straight forward, the seller or business owner post an item otherwise known as 'ad" or 'ADs" in the website platform, as visitors searches online depending on how Seach engine friendly the platform is
Search engines can pick up the ads to show to the users looking for similar products or services, . Also, the classified site owners can also run sponsored Adverts on big platforms like Facebook, Nairaland, Google and other social media to exposes the hot-selling products from their platforms
Is this Business very lucrative?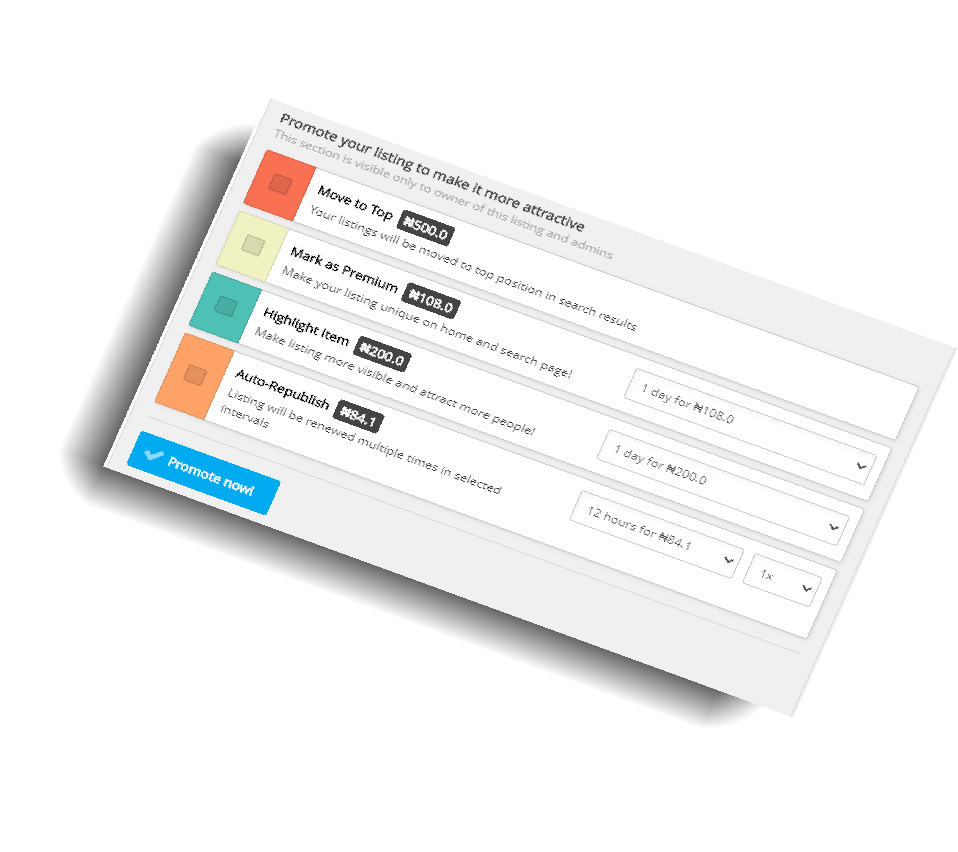 As someone seeking for a new business idea, the first line of action you should embark on is on business analysis, whether such business is feasible, viable and sustainable and because I know how good this niche is, I can assure you that having a classifieds website is very lucrative and can change your earning if you play your card well
Ways you can make money from Classfieds websites
Through Ads Promotion:
Hey listen, how do you think Jiji makes a whole lot of income online? no doubt posting your Ads on their website is free but in order to stand out from the crowd and gain more attention, you must boost or promote your Ads, this is where Jiji makes a whole lot of income from their users if you can 5000 members using your web site and 1000 promotes their ads lets do the math
1000 business owners run sponsored / Boasted Ads and each has 20 items
For instance, the cost of promoting a car and real estate Ad is different and higher however let me assume you fixed a flat rate of N50 per Item for a day promoted in the ad, N50 x30 days this equal N1500 for just one Item
lets even cut it so down lets assume that each of the owners despite having 20 itmes choose to spend N2000 for a month
The 1000 Ad owners will spend 2000 x1000 = N2000,000 ( Two million Naira), Boy! You just made such within a month. This is outside other income options such as paid highlights, Push to the top and Adsense feature
( Which I know is insane because Jiji.ng can charge as much as 3k for a week promotion of an item)
Through Adsense publishers program
The next revenue opportunity for a classifieds owner is through enrolling into the Google publishers program known as Google Adsense, even without offering Ads Promotion such as boosted ads, Push to top, Highlighted Ads and auto Renewed feature which the business owners can pay for, Google Adsense is the income model every classifieds should have
While the users and intending buyers are going through the seller's Ads and services they will also have the opportunity to view Google Ads. It's using one stone to kill two birds, if the visitor did not fancy the seller's item, beneath the post is a related item Ads from Google, when the user choose to exit your site, there are 80 percent chances they will click on those Ads and your mission is accomplished
So you get to make money each time someone views any post because the Item display pages contain Google ads, isn't it a great idea? for starters Google Adsense counts on Pay per click and pay per view ( Impressions) depending on the product or location the visitor is browsing the website from you can get as much as $2 dollars or $0.05 per click and $1 per 1000 page views
If your site can get as much as 20,000 page views on a daily basis, which shouldn't be a big problem as a classified website people search for billions of products and services on daily basis, just on impression alone you can be making more than 20 – 50 dollars daily ( 20 x30 = $600 or 50 x 30 days = $1500) on a monthly basis. So When you create a website like Jiji classifieds you can make money through Google Adsense
The above methods are the simplest business model how classifieds websites like Jiji.ng make their cool cash but there is more. in the next section, I am going to show you how you can build a website like Jiji.ng and make real income running it
Learn How to Apply for Adsense & get Approval
How to Create a Website like Jiji Classifieds in Nigeria
Since we already know how lucrative successful classifieds businesses can be, can we now proceed on how to create a website like Jiji.ng in Nigeria, how to succeed where others fail, how to promote your newly created website and how to make money from it, so let's ride, shall we?
if you would love to skip all the talks, click here to get already made Jiji.ng Classifieds website software
Jiji.ng Classfieds : a Case Study of Nigeria Largest Classfieds
Jiji.ng is a pan African based digital classifieds website which was founded in 2014 by Anton Wolyansky, who is the company's ( Not a Nigerian funny), as of then Olx hold sway in the Nigerian classifieds ecosystem and was the giant in Africa, little was know of Jiji as starters they once started a blog site " Jiji blog" providing visitors with the information on the business, technologies, entertainment, lifestyle, tips, life stories, news.
However, in 2015 they took another milestone when they partnered with Airtel Nigeria to offer their user's data free mode when access Jiji classifieds websites, this remarkable deal gave them more viewership and increase membership signups
Within a short time, Jiji has grown to overtake OLX and even acquired OLX Classifieds, what was there secrets of success? the short answer is commitment and having a road map. So ensure you are focused and be more committed to growing your business and striking partnership deals with investors and other big brands
In the trend of Jiji growth, the company has raised up to $50 Million dollars from 2014 to 2019, this a huge investment leap and trust me its a lot of cash for a startup entrepreneur to lay hold on
Why Many Classifieds Websites in Nigeria Shuts Down
There is a recent trend of classifieds startup business platforms shutting down within their first few years of operational, no doubt Nigeria eCommerce ecosystem is very tough and unfriendly due to the lurking scam and distrust among both buyers and sellers
but a recent study has shown that Nigeria is a fertile ground for emerging online businesses, the classifieds niche is a young and open market platform which requires a lot of industry players for a successful operation if you wish to start up your own classifieds online business like Jiji.ng there are a lot of factors you must consider outside the website it's self in order to succeed and they are
Business Model:
It's very important for you to understand how and where to navigate the ship of your business ideas, from the kind of business owners you are targeting to how you can make real money out of it, in my experience most of this closed shops rely main on the basic revenue-generating features such as ads promotion by the users, Google Adsense and some in house " buy or sell for me commission basis"
In order to break out of this issues you should introduce other smart means of making money from your site's users, for example, I took my time to observe these lapses, I redeveloped a great Classified software which outside having the normal business model also has
Business Directory listing: which you can charge your members to have such page on their website, thereby increases their search traffics and exposure
Verification system: this will show a green ribbon to the guest as a mark of trust and thereby boost the buyer's confidence in transacting with your site members, You can charge sellers for the verification process
Limited Membership Features: you can charge every member a one time fee of a certain amount (it's cool) you could make your website a premium and reliable system.
Pay to Show image on Certain categories: those hot-selling categories can also be restricted to premium members
How to Sustain Your Classifieds Website Business growth
To create a very sustaining income program through your classifieds website, you 80 percent attention must be channel towards advertisement, ensure you made out a budget for running sponsored ads in websites like Facebook, Instagram, Nairaland, and Google Adwords
You can also increase your domain SEO ranking by having a blog, attached to the classifieds website, the motive will be to draw more attention towards your business by writing on top trending products, latest gadgets and reviews about many items, you can link directly to those categories in order to expose them to web traffics
The final marketing strategy is to pay bloggers and some niche related blog site to write a sponsored post on their sites about your classifieds website
Conclusion
To Create a Website like Jiji Classifieds and promote it can be very easy if you narrow down all your plans, as a new startup, its advisable to focus on few categories on your site and give it the best attention, promotion and monetization before you can expand to capture other categories this will help you reduce the cost of advertisement and the tress of managing different products from many categories
Will you like to create a classifieds website like Jiji? Click here to get the software we made just for this purpose
Hi, I am Joshua Nwankwo, The CEO of Startup Ng and the founder of Afripals Interactive, Well I am a Civil Servant in Day time, a farmer at noontime and a Blogger in the evening.
My passion for being free from Government paychecks and also helping my fellow young people to be self-empowered is why I run this blog
An Animal Scientist by Profession and a blogger by passion, you can always reach me on my contact page for help or support