Sale!
Jiji Website Classifieds PHP Script Clone 2020 Latest Version
₦100,000.00
Description
Do you want to start your own online Classified Business without Stress?
Maybe you are looking for Jiji Website Classifieds PHP Script Clone to kick off your business idea, We have exactly what you are looking for, a classifieds script that will run exactly like Jiji and OLX Classifieds PHP Script Clone,
We took our time to study and monitor this highly utilized classified system, we know how successful they are and the user interface is very smooth, friendly and appealing,
We decided to recreate something similar to it, even with a lot of extra e-commerce features
Phone number verification OTP feature
When a new user registers, there is a need to provide a phone number to complete registration. Once the number is entered, the default registration process continues to phone number verification.
Cache to Improve Site Speed
Business Directory for your Sellers
enables every user to create a business profile for your own brand or company to be able to better advertise their own listings on your classifieds.
Car attributes, Job attributes, Real-Estate attributes
enable to add 10 different types for fields:
Select box – supports up to 8 levels of cascading dropdowns. Ideal for car attributes.
Radio buttons – select one from multiple options
Checkboxes – Select one or more from multiple options. (can be required field as well)
Text – short text or number
Text area – long text, suitable for job attributes (resume, …)
Date – date selector
Date range – date range selector
URL – link format, checked with HTML5 validation
Phone – phone number format, checked with HTML5 validation
Email – mail format, checked with HTML5 validation
Paystack Payment Gateway Integrated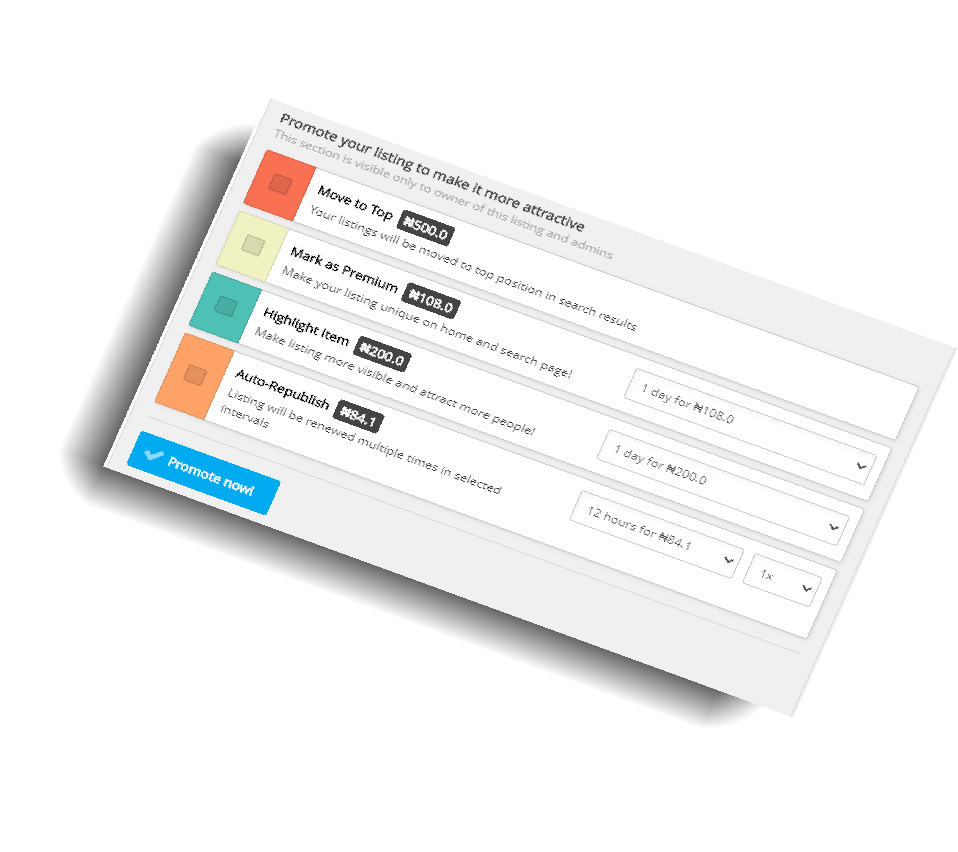 Plus Other Payment Gateways such as Paypal. 2checkout, Coinbase ETC
Accept payment Online for Boosted Ad,  Highlight ADs, Top Ads
Affiliate program (referrals) Reward your members when they refer their friends This will help your site growth
Secure anti-Spam Artificial Intelligence that automatically flags any ads as spam and removes it without your interference
Web view Mobile Apps to help you get on Your feet ( optional)
ADSENSE OPTIMIZED – To help you earn More from Ads
YOU WANT A LIVE DEMO?
How can you get exactly this Resouces?
Simple Place an Order and download the script all integrated together. You can follow the installation instruction  to arrive exactly as the Nairastreet or do a direct clean installation to  carve out your own
We know this bundle script worth more than 100k when you decide to develop yours but we want to cut down all the Stress and give you a flexible solution
Disclaimer
Startup Blog is not affiliated with Jiji or Olx, we used these brands as a demonstration on how a successful classified can be, all our works are open Source and you are free to modify or reuse as the needs arise
I also made a great post on how you can run a healthy How to Create a Website like Jiji Classifieds and make money from it in 2020 to kick off your business
Hi, I am Joshua Nwankwo, The CEO of Startup Ng and the founder of Afripals Interactive, Well I am a Civil Servant in Day time, a farmer at noontime and a Blogger in the evening.
My passion for being free from Government paychecks and also helping my fellow young people to be self-empowered is why I run this blog
An Animal Scientist by Profession and a blogger by passion, you can always reach me on my contact page for help or support